I'm thrilled to present you with my latest music video featuring famous Brazilian choro – Tico-Tico no Fubá by Zequinha de Abreu (1880-1935). Delightful arrangement for three guitars by Edson Lopes. A shout-out to Edson for giving away so many classical guitar arrangements for free. His collections have been incredibly useful for my students, remember to visit the website with his compositions, and two further sites hosting his arrangements (Site 1 / Site 2 – go to "Free sheet music and midis")
Watch the video below (if you prefer YouTube, please follow this link) and keep reading if you'd like to download the score and the practice files for any guitar part to play along.
Score and Practice Files
You're free to download the entire score here. If, however, you'd like to learn this piece, I've included the audio practice files to play along in the links below, both in normal tempo and 20% slower.
Guitar 1 (In this zip file you'll find my original recording with Guitar 1 part missing so you can play along, both in normal and slower tempi)
Audio Recording
Audio was recorded on 11th November 2012 at my project studio – 2d Recording Studio.
I recorded the piece using a pair of Oktava Mk-012 and a Rode NT1 mic, all modded by Michael Joly, run through Metric Halo ULN-2 preamps and converters.
Images showing the microphone placement for this recording session (a pair of Oktava Mk-012 in stereo AB configuration and a Rode NT1 mic w/ MJE-K47 capsule, only used on Guitar 1 for more presence and tone richness).
Audio Editing
Having recorded and edited every project in the past two years with Logic Pro 9, I've only recently moved to Reaper and so far I'm loving it. If you haven't heard of it, Reaper is an affordable Digital Audio Workstation for both Windows and Mac (the license for an average project studio will only cost you 60 Euro) that is lightweight, fast and highly customizable. It did take me two weeks to learn the application, but I assume my typical editing process is now at least two times faster than it used to be in Logic.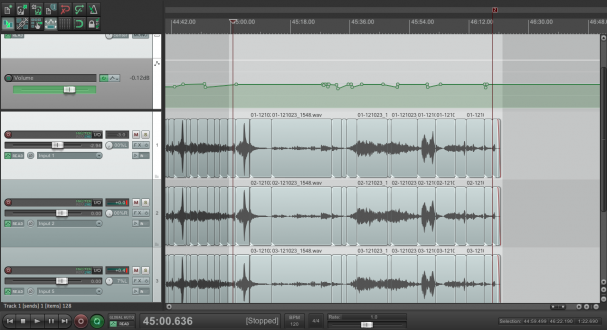 An image showing Reaper's intuitive interface and the subtle volume automation I used on Guitar 1 here.
Video Recording
For video shooting I used my trusted Canon EOS 600D DSLR Camera with the kit lens (Canon EF 18-55 mm f/3,5-5,6 IS II) and a Canon EF 50 mm f/1.8 for the close-ups.
I did all the split screens manually in Final Cut Pro X using its simple-to-use Transform / Crop tools (as explained in this tutorial), but only after having completed the synchronization / multicam selection steps for each guitar part. If interested in how this is done, read my tutorial on editing a multicam music video, also don't hesitate to ask any specific questions in the comments below.
Instruments used
For this recording I played on an excellent 2001 Michele Della Giustina classical guitar (3rd guitar) , an older handmade guitar by Croatian luthier Mirko Hotko (1st) and a cheaper model Camps classical guitar (2nd).
Mirko Hotko handmade classical guitar
Finished Track
Below you can listen to the finished audio track in better quality and share it if you like! Any comments or shares will be highly appreciated!