It's been 2 months since Apple updated GarageBand DAW to version 10 and made it free on the App Store despite tons of new features. Yesterday I finally had the chance to test it and I'm very happy with the results I was able to get out of it.
Unlike some other pro digital audio workstations, the interface of GarageBand is very intuitive and you should be up-and-running in less than an hour. However, there is no shortage of funcionality: Drummer, flex time, pitch correction, great sounding software instruments, samples, soundtrack capabilites, even music lessons.
For more advanced editing and mixing I'll naturally stick to Reaper, but I can already see GarageBand as a more appropriate tool for some projects thanks to its software instruments, flex time etc.
We'll explore some key features and techniques not necessarily obvious coming from another DAW, but first off let me start with two links you'll probably frequently visit at the beginning:
GarageBand keyboard shortcuts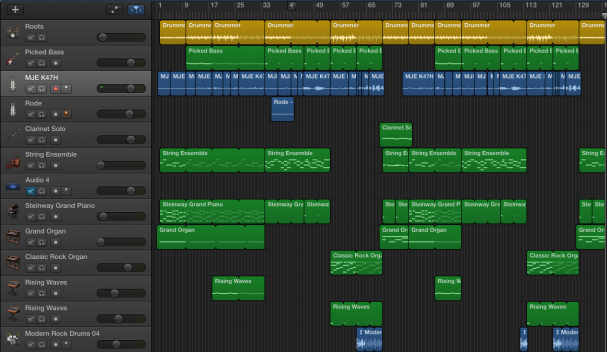 Control bar
You'll be using control bar to quickly access most of GarageBand features.
Library: You can change the sound of a track by choosing a new patch in the Library, and also save your own custom patches.
Smart Controls: A simplified set of visual controls that you can use to quickly modify the sound of the current patch.
Editors: GarageBand features a set of editors, including the Audio Editor, Piano Roll Editor, Score Editor, and Drummer Editor, which you use to make precise changes to individual regions and their contents.
Note Pad: Features text areas where you can create, view, and edit project notes.
Loop Browser: Gives you access to the included Apple Loops library so you can search for and preview loops, then add them to your project.
Media Browser: You can add audio and movie files from the Media Browser.
In the center of the control bar you'll notice transport controls and some additional buttons – Cycle mode, Tuner, Count In and Metronome (see image below).
How to zoom in/out in the Tracks and Editors Area
To zoom in/out in either Tracks Area or Editors Area simply hold CMD + alt and scroll your mouse wheel.
Recording audio from multiple inputs
Oddly enough, by default GarageBand hides all the record enable buttons, meaning it's only possible to record audio from one microphone at a time (see image below).
There is, however, an easy fix. Go to Track > Track Header > Show Record Enable Button and you should be able to record up to 8 microphones and one software instrument at once, depending on your audio interface capabilities.
Recording multiple takes
When you're recording, you can record multiple versions, or takes, in quick succession. This can be helpful especially when you're improvising a lead or solo part and want to capture several versions while you're feeling inspired.
To keep in tempo, you can turn on the metronome in the transport bar. Likewise, enable count in to have the metronome play a one or two bar count-in before recording starts.
Click the record button on press R. Record as many cycle passes as you wish.
When you're done, press space and select your favorite take from the take menu.
Drummer
Drummer is an amazing addition to this DAW, adopted from this year's release of GarageBand's bigger brother, Logic Pro X. It's basically a virtual session player created using some of the industry's top session drummers and recording engineers. There is one drummer included for free in GarageBand, however, with a $5 in-app purchase you can have it all.
Using multiple drummers in a project is currently not allowed, but you can experiment combining Drummer with Apple Loops.
If you'd like the Drummer to play different patterns or drums in the chorus than in the verse, simply copy and paste the default Drummer track and change its settings accordingly!
Looping audio regions
You can loop regions so that they play repeatedly pretty easily, simply place the pointer over the upper-right edge of the region and drag the right edge of the region until it aligns with the point where you want it to stop playing.
Extending GarageBand with AU plugins
Yes, GarageBand 10 supports 3rd party plugins, which is great news. As of this moment, only AU plugins are supported. You can add your plugins in the Smart Controls window.
Creating a soundtrack
Thanks to the ability of opening movies in a floating window, creating a soundtrack is easy in GarageBand. To add a movie, choose File > Movie > Open Movie. For further instruction read here.
How to invert audio (flip its phase) in GarageBand
Inverting audio is one of the features not supported natively in GarageBand. You can, however, use a free AU plugin like Sonalksis FreeG to do that!